Interested in the Formula Student Team Delft and our role as sponsor of the DUT? Read all the latest news and developments about Formula Student Team Delft at the TU Delft here.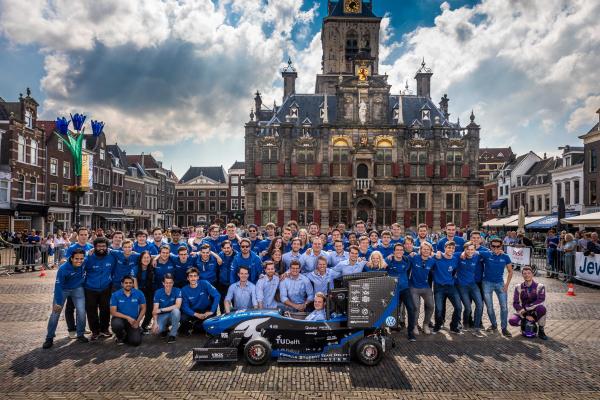 Foto: Worcflow
---
02-07-2021
Competition update
This summer we will be visiting three competitions:
Formula Student Netherlands - TT track Assen, NL - 4-8 July
Formula Student Austria - Red Bull Ring, AT - 25-29 July
Formula Student Germany - Hockenheimring, DE - 16-21 August
For Formula Student Netherlands our car will not be fully finished yet. We've encountered delays in our production and assembly, both internally and externally, due to electronic component shortages, our recent moving, and restricted workshop access during the pandemic. We have approached this problem by re-evaluating our human- and time resources, and decided to focus everyone on the critical components of the car. We have succeeded in making sure all critical components are finished in time, but we took a loss in mainly our aerodynamics production. This means two things; our car will not reach its full downforce potential at our first race, and we will also not be able to use the endplates of the Front and Rear wing to highlight our sponsors on.
To still express our gratitude for all sponsors, also during the first race in Assen, we have made a brand new sponsor banner that will accompany the car. We are doing everything in our power to expose our beloved sponsors as best as we can.
In the meantime our production crews will be working day and night to get our full aerodynamics package finished, enabling us to show our full car when we roll out for our second race; Formula Student Austria.
We hope you understand our decision on this and that we can count on your support during the racing season!
If you have any questions on sponsor exposure or our upcoming competition season, please do not hesitate to contact Sander Althuis (+31 6 5722 0973).
---
02-07-2021
Team update
Writing the last newsletter in the end May, we thought that that month had been very busy. Well, that record was definitely broken by June. We started off June with the fitting of our radiators, quickly followed by a full test of our cooling system. That was successfull and we proceeded with assembling our motors, making wiring looms and testing our accumulator and other electronics. This was succesfull, but we were still waiting for some more electronic components to come in.
In the meantime we progressed a lot in our Suspension & Drivetrain department, which meant that on June 16th, we put our car on the ground on its own wheels for the first time. No time was wasted and on the night of June 19th, we had our first full integration test. This is a test of all car electronics, both LV and HV, integrated but outside of the car. This worked very smoothly, and the next morning we disassembled our test setup, and started assembling all electronics in the car. This took a few days, and after some adjustments and final debugging, we drove the first meters of our brand new DUT21 electric racecar! This was a very special moment, and every team member had been working towards this since the start of the academic year.
What we're up to now are the last preparations before Formula Student Netherlands, the kick-off race of the 2021 summer season. Tihs comes down to finalizing the car, packing up our team truck and planning our strategics for the race. In the next update we'll update you on our results!
Sander Althuis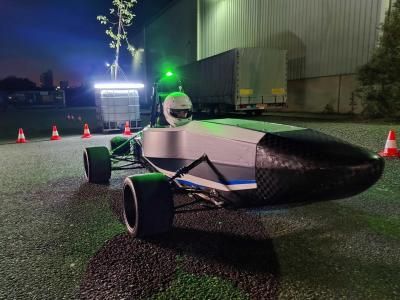 ---
07-06-2021
Team update
Oh boy, what a month it has been! This past May, we've made extreme progress in the build of our DUT21 car. Everything is falling into place and the small pieces are beginning to come together into the greater whole. Finally, the chassis is wrapped with this year's livery. As u may know from previous years, the DUT cars have always looked competitive, aggressive and ready to be the best racecar on the track. The team that is responsible for the livery has worked very hard to make sure that these primary pillars of the DUT vision is being delivered through the livery of our DUT21 car. Next up will be the inclusion of a lot of our beloved sponsors on the car! For the public, our partners, family and friends, the livery will be revealed at the Rollout of the DUT21 car. An announcement of the rollout date will follow very soon!
Currently, the DUT factory is occupied day and night. Everyone is doing one's bit and putting in the extra work to make sure that the car is ready for its first competition: The FSN on the 4th of July. The work from the entire team is highly appreciated, even more in these important and stressful last moments. Anyway, we know what our team is capable of, and we know that they can pull it off and build the fastest and greatest DUT car that has ever been build. The enthusiasm is growing, and we are very happy to see that the entire project is finally, after almost an entire year, truly coming together.
Team Manager – Jasper Hagesteijn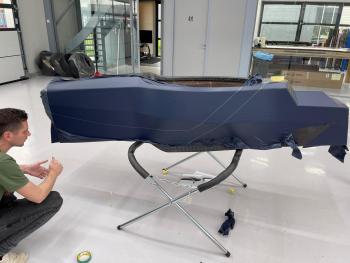 A sneek peek of our chassis colours!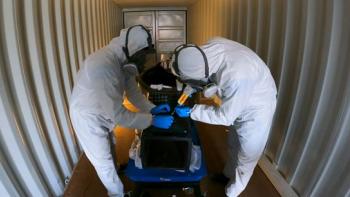 But before the chassis could be wrapped, there were a few preparations that needed to happen. One advantage of these ABEK1 gas filters however, is that they also protect against corona infections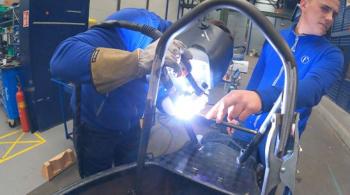 And the main hoop, which was also featured in last month's newsletter, was welded together and is placed in the chassis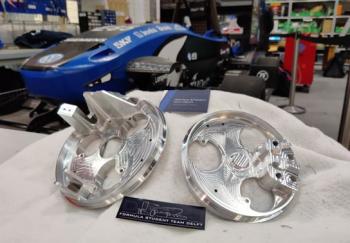 We'll keep the rest of our parts a secret for now, but we can show you this: our uprights, which form the connection between our suspension rods and our wheels. At the same time they also house our planetary gear system
---
04-05-2021
Team update
The planning of the DUT21 is running tight; with test time having proven to be critical over the last years, we are doing everything we can to get that beautiful car driving as soon as possible!
The final layers of carbon fiber are being applied to the inner skin of the chassis which will come out of its mould next week. With a beautiful naked chassis to work with it is all about ramping up that pace. After it's postproccesing stage has been finished the livery will be applied and all parts and components will be assembled. This leads me to some more exciting topics.
With most of our members putting out engineering work on the car there is also a group working extensively on the design of the livery. Designing the livery comes down to choosing colors and designs that make the car stand out and make it look aggressive and ready to fight, but it is also about completing the endless puzzle of featuring our beloved sponsors on the car. What the car will look like is something to remain a secret for now but will be revealed at the Rollout of the DUT21. Announcement of the rollout date and format will follow soon!
With chassis making its progress, other departments are also steaming ready for that assembly phase. The mechanical crew is expanding their collection of parts everyday by turning chunks of aluminium in smaller chunks of aluminium. The collection of carbon fiber wings ready to be processed and fitted also grows with the day. And of course, the embedded department who are currently testing the full car setup outside of the car, implementing our new software and PCB's.
Stay tuned for an exciting month in which everything of the past year will come together!
Re-watch the Design Reveal of our DUT21 car here!
Team Manager – Jasper Hagesteijn
---
04-05-2021
Have you ever heard of 'debulking a laminate'? It's what we are doing on this picture, the debulking of our chassis. We build a full vacuumbag around and inside of our chassis, and pull all air out of it. This compresses the layers of carbon fibre, making sure that there is no air between any layers and the final product will be cured correctly.
Our "main hoop": the main rollover protection of our car. With a centre of gravity height of only 275 mm, it is highly unlikely that our car will ever roll over, but this part is what will protect our driver in such a case. The hoop is subject to some strict rules, and we are happy to have the produced hoop ready to be installed in our chassis.
Our Chief Aerodynamics showing our beautiful rear wing elements. They are the lightest we have ever made, and provide a substantial part of our car's downforce. They will be used in our DRS (Drag Reduction System); by varying the angle of attack of these elements we can reduce the drag of our car for when we don't need as much downforce as we do in corners.
---
04-03-2021
Production update
With the production phase in full swing, every day is filled with new exciting things happening. No day at the office is the same! One day fresh foam airfoils, which will form the core of our aerodynamic wings, are brought into the office straight from the CNC machine, the other day we get to hear the sound of our electric motors simulating a 22-minute endurance race. Not to mention the constant output of our 'mechanical crew', which is making aluminium parts on our lathe and milling machine. Let's go over each department to quickly hear what they are up to currently.
The chassis department has been busy laminating carbon fibre for quite some time now. The 'laminating crew' has assembled and nightshifts are not even special anymore. Currently the laminating crew is working on the outer skin of our actual DUT21 chassis! Next to that they are busy finalizing our SES (Structural Equivalency Spreadsheet) approval. This involves computational modelling of all carbon fibre panels in our chassis, but also real life tests where samples of our chassis are crash tested. This process is required by the Formula Student competition to ensure that each chassis is strong enough to safely house a driver.
The aerodynamics department has been a royal supplier of the laminating crew, while also still finishing their design! The aerodynamic shape is now finalised, only a few small tweaks in the structure of the wings are left to do. But the production has already started; MDF moulds have been CNC'd in which we will laminate our wings, and the foam cores for inside the wings are also being produced as we speak. Now only the laminating and curing of all components is left.
The suspension and drivetrain department has been booking great successes as well. On the one hand they have a lot of outsourced components, even more than in previous years. Those parts need a lot of careful attention to make sure all models and drawings are correct and complete. Most parts have been finalised now, only some last calculations are done to make sure the design we send out will work in our car. On the other hand there is the internal production, for which we have bought our own mill and lathe this year. They have been set up in our workshop and the mechanical crew is already producing parts on them!
The motor controller department has lately been expanding their test setup, for example with a powerful electrical power supply. That really got things spinning, and our motor controllers are now being tested with various combinations of high and low power, high and low rpm and the states of regenerative and normal powering. The PCB's for in our car are going to be produced in the coming weeks. They are very similar to the ones we're using to run tests now, and the design is sent out to be checked by our sponsor TBP this week. Then they will be produced, assembled and delivered to start integration testing!
The accumulator is another big thing that takes up a good part of our production resources. All 288 cells per accu, of which we will build 2, need to be welded together. The cells are also divided in separate modules, which are smaller casing made out of glass fibre. Eight of these modules are put together to form 1 accumulator, with a voltage of almost 600 Volts. The fabrication process needs to happen with a lot of care and safety precautions, to be able to build a reliable and safe accumulator.
Lastly we have the Embedded department, which can roughly be divided in three sections, of which wiring is the first. The wiring looms are the nerve system of our car, connecting all electronic components to each other. The design is finished and the first parts of the loom have been produced already! The second part of embedded is PCB's, so the design and production of all Printed Circuit Boards in our car. This is done in close collaboration with TBP and Eurocircuits, and the first V1's of the DUT21 year will be coming in in a few days! Then we have software. For software there is not as much of a distinction between design and production as for other departments, as they have been testing and writing code since the start of the year! When our newest PCB's come in they will test them thoroughly and work together with powertrain and motor controllers to get a reliable and fast electrical system.
Concluding, hopefully you'll have read something new and exciting here. The coming months are gonna be the most fun of the year; we'll see all DUT21 parts being made, we'll see subassemblies and assemblies come to life and then we'll have the ultimate reward; the DUT21 car. I would like to thank all of you, our sponsors, who help us to realize this car; you are truly vital for our success and I'm confident we have a winning team together!
Finance & Supply Chain Manager - Sander Althuis
---
04-03-2021
Team update
With the design of the DUT21 revealed in the design presentation the team is now moving quick. Almost all of the designs are finalized and production has started. Sander will tell more about this later on. As you know, our chassis production had already started and I can say that it's a very exciting process to witness and actually see the DUT21 taking shape.
Even more progress is made at the motor controller department. We've managed to run our first autocross and endurance run on our test bench which is an absolutely amazing achievement!
These upcoming months will be months of production, tight planning and off course many cool car components. We are looking forward to the coming months, and we hope to see you either online of offline!
Team Manager – Jasper Hagesteijn
---
31-12-2020
Not long ago we had our television debut in "Formula 1 Café". Recordings have now been made for a second television appearance! This time it is for the program "Klaas Kan Alles". We are part of a section called "The Duel". Klaas van Kruistem, the host of the program, challenges another famous Dutchman to a duel. Before our performance, the DUT19 will be featured in this game. Klaas and his challenger Buddy Vedder (Dutch actor / presenter) will compete for the fastest lap times. The program will be broadcast on January 23 at 7:25 pm on NPO 3 '- Jasper Hagesteijn - team manager DUT21.
---
03-11-2020
Click here to read the most recent newsletter of the FSTD, containing a Covid update and a project update.
---
04-06-2020
Lately it has been quieter than you are used to from us. However, this does not mean that we are not busy behind the scenes with the team, the online competition and other activities!
In a time without Formula 1 races, people are constantly looking for other ways to create race content. The well-known Formula 1 café therefore approached us to include an item. We are proud to announce that former Formula 1 driver Robert Doornbos will drive a time attack in the DUT19 against Tom Coronel.
The 'race' will take place on our own test track and will be commented by Rob Kamphues. Rob will also interview us where we can tell more about our team and the project. Then the item (as it stands) will air on Friday June 12, 10:30 PM on Ziggo Sport.
All this will of course take place at an appropriate distance. We will follow all RIVM rules and disinfect the car in between. In addition, we will (unfortunately) only be present with the necessary team members.
---
7-05-2020
Click here to read the most recent FSTD newsletter, containing more information about canceling competitions and organizing an online competition.
---
31-03-2020
Due to the situation regarding the Coronavirus, the Formula Student Team Delft follows the official guidelines of the Dutch government and health authorities. The well-being of our team is of the utmost importance to us. This means that we will close our office until April 6. After this period, we will review the situation and see if other precautions need to be taken. We will continue to answer our phones and emails in the coming period.
Our team can be proud of our achievements to date. We have already learned a lot by designing, testing and building our cars. It is difficult to step back, but we feel our responsibility to society. The largest Formula Student competition has now been canceled. Chances are that others will follow which means we won't be attending any games in the summer. This decision naturally raises several questions: are we going to continue building two cars? Can we attend another match if the weather is safe? But it also raises another question; as a large team of 110 engineers, can we make a different contribution to society? Are there any projects where we can help fight the Coronavirus? We don't have all the answers yet and need some time to clarify all aspects. We will communicate more details as soon as possible.
Julius van Bebber
Finance & Operations Manager
---
31-03-2020
The website of the Formula Student Team Delft has been updated! Click on this link and take a look at the site.
---
18-06-2019
The rollout of the DUT19 was on the Markt in Delft on Friday 14 June. Tbp has been a sponsor of the Formula Student Team Delft for several years. We assist the students by analyzing their electronics design and giving feedback. The production and delivery of the printed circuit board assemblies (PCBA's) are also part of the sponsorship.
---
11-02-2019
Klik hier voor het lezen van de nieuwsbrief januari 2019 van het FSTD.
---
31-01-2019
Onlangs heeft de design presentatie plaatsgevonden van de DUT19! Bekijk hier het filmpje.
---
15-06-2018
Dromen realiseren - Formula Student Team Delft presenteert de DUT18.
Korte film over het bouwen van de volgende generatie engineers
---
09-04-2018
Lees hier de maart 2018 editie van de nieuwsbrief van het Formula Student Team Delft
---
12-03-2018
Lees hier de februari 2018 editie van de nieuwsbrief van het Formula Student Team Delft
---
08-02-2018
Lees hier de december 2017/januari 2018 editie van de nieuwsbrief van het Formula Student Team Delft
---
05-12-2017
Lees hier de november editie van de nieuwsbrief van het Formula Student Team Delft
---
01-11-2017
Lees hier de oktober editie van de nieuwsbrief van het Formula Student Team Delft
---
01-10-2017
Lees hier de september editie van de nieuwsbrief van het Formula Student Team Delft
---
16-6-2017
De roll-out van de DUT17 heeft plaatsgevonden op 16 juni. Diverse tbp collega's hebben dit evenement bijgewoond. Allereerst werd een presentatie gegeven in Pathé Delft over de totstandkoming van de DUT17. Vervolgens werd de DUT17 groots onthuld op de Markt. Dit ging gepaard met een demonstratie van de DUT17 én voorganger. Daarna konden de aanwezige gasten de DUT17 van dichtbij bekijken in de D:DREAM hall waarbij ook een barbecue plaatsvond.
---
21-2-2017
'Electronics Manufacturing Services company VDL TBP Electronics has been helping out our team since 2013! Not only do they help us with the early involvement incl. design and testing, but they also help us with the assembling of the electrical components. Thanks to the longlasting collaboration of Formula Student Team Delft and tbp, we can rely on high quality components!'. Read more on pages 16/17 in our newsletter Way of Life 41.
---
22-1-2017
Het Formula Student Team presenteert met trots de design presentatie van de DUT17!
Klik hier voor het filmpje.
---