Education
Committed and qualified professionals play a decisive role in our highteh business. To find sufficient technical talent in the future, we maintain active contact with the field of education and pupils and students regularly visit our company in Dirksland and Eindhoven.
The various initiatives supported by VDL TBP Electronics:
Energy Island
Goeree-Overflakkee wanted to be fully energy-neutral by 2020. This ambitious objective has led to many initiatives on the island. Energy Island, which was first organised in 2017, helped to unit all developments in the field of sustainable energy and innovation.
Innovative care was one of the sub-sessions, and was intended for secondary schools in the region. The venue was VDL TBP Electronics' own auditorium in Dirksland. Several year 6 secondary students from CSG Prins Maurits in Middelharnis provided information about their profile paper on healthcare You can read more about this in our Way of Life newsletter Way of Life number 42.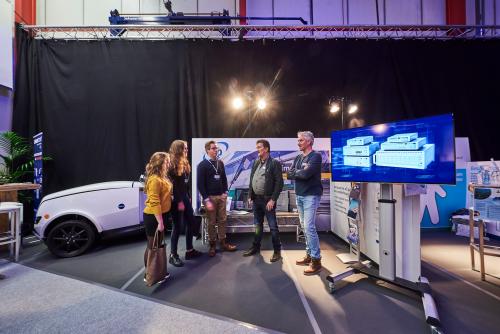 Photo: fotograaff

Maekplaets
Children are the workers of the future. The aim of Maekplaets is to make young people enthusiastic about technology, robotics, 3D printing, etc. During the lessons, which have been specially developed, the children become acquainted with programming, controlling robots and virtual reality glasses, among other things. VDL TBP Electronics and Maekplaets regularly work together at various events such as Techweek, Girls'Day and First Lego League.
Innovation
'Healthcare must be faster, better and cheaper and will change completely in the coming years', emphasizes Joost van Haperen, Managing Director of VDL TBP Electronics. 'Technological innovations play an important role in this.' With Design for eXcellence analyzes (DfX) in the early design stage and the production of printed circuit board assemblies (PCBAs), we are fully involved in technological healthcare innovations. Examples are the intelligent blood pressure monitors from Finapress and the digital hand scanner from Macawi (both subsidiaries of Demcon), eye surgery robot EVA from D.O.R.C. and facilities from Philips Healthcare.
Of course we are certified for the medical ISO 13485:2016.
Sustainability
energy saving
With various measures, VDL TBP Electronics is reducing its own energy consumption. In 2016, local consultancy Energieke Regio carried out an energy scan with practical recommendations. These and other measures were elaborated in the Energy Reduction Plan, which already led to 10% savings in 2017. For example, we invested in insulating retaining walls for the plastic facade elements to save energy. Solar panels on the roof generate energy for production. The heating and cooling installations have also been adapted so that the residual heat from the machines can heat cooler rooms. And thanks to segmentation, timers, motion detection and LED lamps, we save a lot of lighting energy. A new vacuum pump, which only switches on when it is in use, also consumes less energy and there are now four charging stations for electric cars in our parking lot.
Sustainability is a structural point of attention. For an ISO 14001-certified company such as VDL TBP Electronics, this is self-evident.