Test engineering
Design for Testing allows us to work with our customer to optimise the test accessibility and test coverage of the pcba design. Our DfT engineers conduct analyses from the very first design concept (in block diagram) and propose definitive recommendations for the best design and best test strategy. They request initial data during the design phase so an accurate cost estimate can be created.
The best test strategy
The best test strategy is determined by the required delivery quality, the complexity of the design and the desired investment in test solutions. You are given all the options in a detailed selection menu, including percentages for production yield and delivery quality (slip through), which means you can make the right choice. We also closely monitor total costs, partly by efficiently incorporating test accessibility into the design.
Effective test solutions
We can offer various test solutions. The most effective and efficient option is our extended boundary scan test solution (EBST), which automatically detects any faults on a pcba. Thanks to double signal functionality, the workings of both the analogue and digital elements of the design are tested. This test method leads to the best possible slip through and makes costly investment in specific functional requirements unnecessary.
Results commitments
Design for Testing (DfT) and Design for Manufacturing (DfM) offer maximum production yield and minimum slip through, which are expressed as production yield and slip through percentages. EMS is the only company to include these percentages as result commitments in our quotations.
Engineers from both sides gather increasingly often to share experiences and effectively respond to developments. We use one another's knowledge to improve together.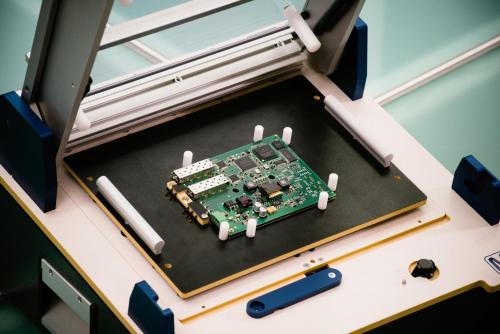 Interested? Contact our Manager Test Engineering