Integrated Logistic Services
Supply chain management
We offer extra delivery reliability and even more delivery flexibility with our supply chain management services. We establish a contract with you to immediately perform flexible orders.
Our early supplier involvement allow us to guarantee high delivery reliability. We work with your designer to perfect your design, so everything can be done in one attempt, while only doing what is necessary: right first time. We optimise the manufacturability and testability of the design and advise you about the best components, which are always in stock and are not subject to a minimum order quantity.
Forecast agreement
By using our supply chain management services, you benefit from extra delivery reliability and flexibility. We draw up a contract that fixes your total order quantity for one year, which we deliver to you on demand subject to a minimum order quantity. You submit order forecasts periodically, and we share them with our suppliers. At component or end product level, we keep an agreed amount of stock to immediately fulfil your interim orders. This on-time delivery offers you maximum flexibility in your production, at minimal cost.
all pcba's are not created equal!
Full traceability
Our high levels of delivery reliability are based on strict process monitoring. Thanks to our Manufacturing Execution System (MES), every pcba passes through the process faultlessly and is fully traceable. Our track&trace app allows you to see the status of your orders and current stock levels for your products. Our Wide Area Traceability System (WATS) means you will get real-time online access to this information, including detailed test reports. You can find our online services in the customer portal on this website.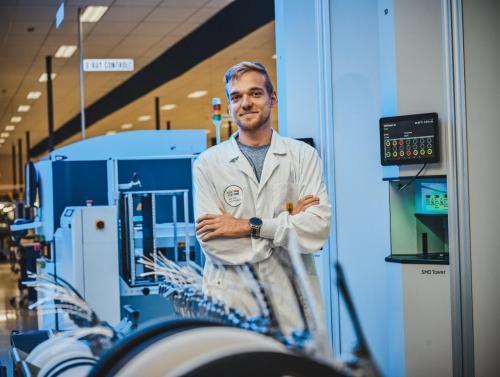 Interested? Contact our Business Development Executive