Maximum production results thanks to Design for eXcellence

Design for eXcellence (DfX) delivers great added value for clients. At VDL TBP Electronics, this approach is adopted by our early supplier involvement. By influencing the design of a printed circuit board assembly (pcba) at an early stage, the company achieves the best product quality and product reliability, complete custom design,maximum supply flexibility and all for the lowest total cost. The best results are achieved when suppliers utilise all of these phases.
'The repair of faults incurs costs which increase by a factor of ten with each subsequent process step', explains Steven Van Hout of VDL TBP Electronics. He is Manager Test Engineering in our DfT team. 'Faults may also influence the quality (life) of the product. By applying all of our product knowledge and experience during the design phase, we prevent such high costs and we achieve a very high delivered quality. Our principle is that it is better to think first rather than later, so that we do everything right in one go and only do what is absolutely necessary. We call this objective 'Right first time' which we achieve using Design for eXcellence (DfX), as part of our early supplier involvement services.'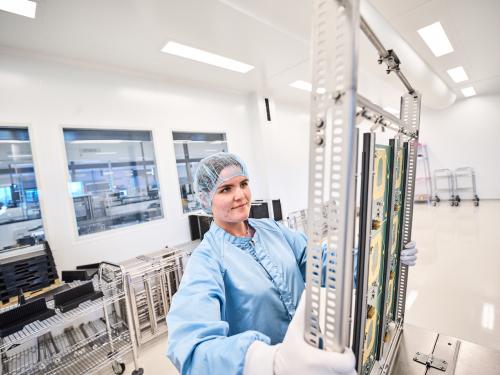 Only do the right things, right first time
DfX-phases
Design for eXcellence consists of consecutive phases in which the specialists at VDL TBP Electronics assess the client's designs from various perspectives and make recommendations for improvement. Van Hout: 'The maximum production result is achieved when phases 0 to 2 are undergone in full. We can then maximise the efficiency of our production processes, with great added value for the client.'

In the most important phase, namely phase 0, the designer selects the key components. 'We recommend that category A components are used as much as possible', continues Van Hout. 'These are always on stock in a temperature-controlled environment and we have all of the production and test information for them at our disposal. We bear the responsibility for minimum order quantities - the client only purchases the quantity he needs. We also have category B and C on stock for specific clients. Not only do we advise our clients' designers and our design partners on key components, we also make them more aware of testability, production feasibility and reliability of supply.

This process of awareness takes place in phase 1 as part of the Design for Testing (DfT), Design for Manufacturing (DfM) and Design for Logistics (DfL) analyses. An experienced specialist engineering team at VDL TBP develops innovative applications for DfT and DfM in particular, including the efficient and effective extended boundary scan test (mixed signal test).
Design for Testing (DfT)
'The electrical diagram suggested to us by the designer at this stage is analysed for testability and test accessibility', explains Steven. 'The most important test method is our Extended Boundary Scan Test solution (EBST) with which the PCBAs are automatically tested for functionality at production level and thus the operation of the key components is validated. The main benefit of this is the automated search for faults and the generation of a repair ticket. By including test points in the design, we can configure the extended boundary scan for optimum efficiency. If there is insufficient test accessibility, we can still achieve maximum test coverage with this method by making use of the client's software.'
The Extended Boundary Scan prevents costly functional test solutions for the client and positively influences production yield and product quality, expressed in 'production yield' (or 'first pass yield') and 'slip through'. Van Hout: 'We calculate these provisional percentages on the basis of the complexity of the design and the test strategy applied and include these in our reports and quotations to the client. Designers assess the functionality of the design and we provide input on testability and test accessibility without losing sight of the economic side of things. We do this by incorporating the test points in the design as efficiently as possible.'
Design for Manufacturing (DfM)
In phase 1, VDL TBP Electronics also assesses the production feasibility of the design. Geert Gielis, DfM engineer: 'We check that the footprints on the PCB correspond to the physical components and, using the software model, we ensure that we can place and solder all of the components reliably. Our aim is to be able to do this automatically, which is why a PCB containing only SMD components is the best option. From a technical design perspective however, the designer sometimes selects conventional components (through-hole components). In this case, by selecting Pin In Paste (PIP) variants, they can still be placed by a pick & place-machine, and are suitable for a higher oven temperature (full reflow). It is important that the other conventional components can be soldered automatically (selective wave). The manual alternative, carried out by people, creates more faults and more cost, however carefully those people carry out their task. For an automated 'selective wave' process, space between the components is an absolute requirement. We analyse the design of this and feedback our recommendations to the designer.'

'Practical experience has taught us that we discover almost all of the production inefficiencies in the design at this stage', adds Gielis. 'For example, it might be that several incorrect components have been selected from the parts list. This is an administrative error which is still relatively easy to rectify at this stage. But what if we had already configured the entire production line and the wrong components had been delivered! We would have had to start all over again from the beginning with all of the inherent costs involved. Prevention of faults prevents high costs.'
Design for Logistics (DfL)
Partnerships with suppliers also play a significant role in the strategy of Design for eXcellence. Significant performance indicators are quality, logistics, technology, costs, communication and risk management. Thanks to intensive cooperation and large order volumes, preferred suppliers can keep their prices low for category A components. Most of all, they guarantee reliable supply, even of the less commonly used B and C components, on the basis of anticipated orders. The early involvement services of VDL TBP Electronics shape the conditions for this.
Design for eXcellence (DfX)
'In phase 2 we reach Design for eXcellence and we carefully check the production feasibility and testability of the entire PCBA', continues Van Hout. 'We include the definitively calculated percentages for production yield and product quality (slip through) in our quotations and in that respect we are unique as an EMS company. These calculations continue to relate to the design phase.'

Following the approval of the design, all of the formulated process steps are included in the production management system. This system monitors whether all of the steps have actually been taken and compares the calculated and measured production yield and slip through percentages. If necessary, corrective measures are taken immediately. The final result is a PCBA of the highest product quality and product reliability, completely to specification, with maximum supply flexibility and at the lowest total cost.
Right first time
'We directly help the designer to select the best components, the correct production steps and the best test strategy for the highest achievable production yield', concludes Van Hout. 'Thanks to our early involvement services we can apply our strategy for Design for eXcellence completely. Naturally we can manufacture PCBAs according to the client's specifications, but this does not deliver the optimum end result that we are able to achieve if we apply our Design for eXcellence principles. We consider communication with the client and designers at an early stage to be very important, so that we can explain our findings. This also creates mutual understanding and mutual recognition. Awareness increases and this adds a great deal of value. We see the effects in follow-up orders, in which the designers take more and more account of all of the relevant aspects. Better to think first rather than later and get everything right in one go. 'Right first time' thanks to Design for eXcellence!'
Interested? Contact our Manager Test Engineering